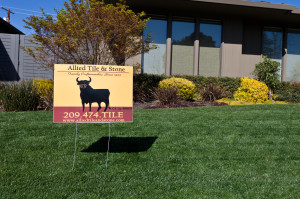 Allied Tile & Stone is a family owned and operated business that specializes in the installation of tile, stone, custom granite, marble and quartz slabs and a variety of green products. Since 1953, three generations of the Fernandes family have dedicated their life's work to the art of tile and stone installation.
The first generation of three began when John Fernandes Jr. joined Peninsula Art Tile, the family business of his brother-in-law Joe Costa. It was there that John quickly discovered his passion in tile. Just a few of their memorable jobs include the personal residences of singer Tennessee Ernie Ford, singer and actor Bing Crosby and Secretary of Defense Caspar Weinberger. Other projects dear to their hearts include the California Mission San Juan Baptista and St. Francis Yacht Club of San Francisco.
The second generation of tile and stone installers began with John's two sons, Rick and David Fernandes. In 1983, they opened a small tile shop – Fernandes Tile Company. Rick and David built their reputation in the Stockton community with each job that was completed. Their pride of ownership and artistic approach to tile soon separated them from their competition.  With continued success the small company began taking on larger projects such as Brookside Development and the Weberstown Mall in Stockton. In 1993, Rick Fernandes changed the company's name to Allied Tile Company and began taking on larger residential and commercial projects such as the Sheraton Hotel in Seattle as well as Sears and Starbucks throughout Northern and Southern California.
In 1998, Rick's son Michael joined Allied Tile Company. Michael represents the third generation of Fernandes family installers. Over the past fifteen plus years Michael has expanded the family business into other areas such as granite, marble, and quartz slab installation.  Since 1998, Allied Tile Company has completed both residential and commercial projects throughout Northern and Southern California as well as Nevada and Hawaii.  Such projects include custom homes in Pebble Beach, Crawdaddy's Bar and Grill in Visalia and Macy's of Northern California and the Hawaiian Islands.
In 2007, Rick and Michael changed the company's name to Allied Tile & Stone to better define their business as a tile and stone installer. Allied Tile & Stone has recently expanded their installation services to solid surface and concrete counters. These added services have increased client's design options in their homes and businesses. Today, Allied Tile & Stone continues their commitment to the art of tile and stone installation and is looking forward to working on future projects with you.